Wednesday, May 6, 2015 at 5:37AM
From Dwayne Wright PMP, PMI-PBA, PMI-ACP, CSM
Certified FileMaker Developer
WEB: www.dwaynewright.com
EMAIL: info@dwaynewright.com
TWITTER: dwaynewright
YOUTUBE: FileMakerThoughts
FieldIDs
FieldIDs( fileName ; layoutName)
All Current Versions Of FileMaker
Returns A Text Result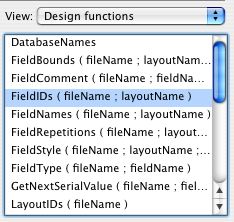 This design function will give you the internal FileMaker id number for all the fields on the specified layout. This will even work for related fields on the reference layout. Each internal FileMaker ID will be presented with a carriage return between each value.
As with most of the design functions, if you hard code the parameters of fileName or layout name, the results can be broken if you change the name of the file or layout afterwards.
=
More info about the author and FileMaker in general, contact me at info@dwaynewright.com.
© 2010 - Dwayne Wright - dwaynewright.com
The material on this document is offered AS IS. FileMaker Pro is the registered trademark of FileMaker Inc.